Workshops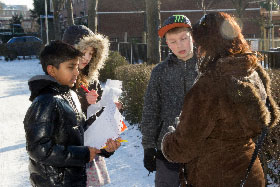 Published on June 7th, 2016 | by Kambisa!
0
Anti bullying magazin
Introduction
The collaboration between Kambisa and the primary school 't Schrijverke addressing the issue of "bullying" has been a success. Through this district wide project, a group of students learned interview skills aswell as how to compile and produce a newspaper.

Under the guidance of Klaartje Jaspers of Kambisa, the students concluded this project with an exhibition they created summarising their lessons and works on the "bullying" subject.The students produced a newspaper which was presented to fellow students and parents at the 't Schrijverke primary school.
Comment from students
Rima "I found it very interesting to hear views about bullying from people you do not know. The compilation of the newspaper was fun. We had to sit in meetings and decide what to feature in the newspaper. I found that very enjoyable and at the same time educative. In the paper you use difficult words, so it was a good way of learning. The people I interviewed wanted to have a copy of the newspaper as soon as it was ready."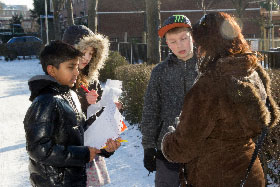 Britney "I found the interviewing part fun. But putting the newspaper together was even more fun, we had to decide with the group what to include and not include. The result is very nice and we have received a lot of compliments. It is such fun because interviewing and producing a newspaper is not somthing you do everyday. Klaartje gave clear explainations and helped us understand how it should be done. She did her best and we really appreciate."
Want to read the complete version in dutch
For the complete page in Dutch follow this link.