Kambisa! workshops at Grotius College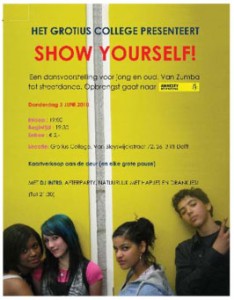 In 2010, Kambisa! held a first series of workshops at Grotius College in Delft, in cooperation with cultural organisation Nyama. Students took classes in media-education, where they learned to look with a critical eye at how newspapers and television affect our views. Are the media fair? Who decides what makes it into the news and how? And how could things be done better?
All such questions were discussed. Youths turned out not to be as disinterested in that 'boring news' as is often assumed. They had strong opinions about it, and there is certainly hope for the future, as we discovered plenty of journalism talent in the group.
In the PR workshops students made posters and flyers for Show Yourself, a beneficiary dance show the students did for Amnesty International. Third year ICT students learned the basics of film making.